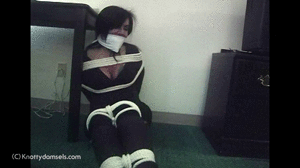 74 photos; 3:39 video
GiGi Lynn was a woman who was in the wrong place at the wrong time. Witness to a robbery, she is taken by a robber who uses her as a hostage and holes her up in a hotel room. To make sure she is quiet, she is roped at the hands behind back, knees, ankles, and roped over her breasts. Her mouth is stuffed and she is OTM gagged with a white cloth. She hears the robber say he plans to get rid of her as GiGi listens on, pleading for the robber to let her go. Realizing he is not that sort of bad, he tells her he is going to leave her here bound and gagged and that by the time she gets free, he will be long time, terrifying her enough to ensure she won't testify against him. Once he leaves, GiGi manages to shake her gag off and call for help.

This was the only solo set I did of GiGi Lynn back in 2011 as a video. This update includes a bonus photoset of GiGi in the same tie OTM gagged with a blue bandanna, and a separate photoset of GiGi bound and gagged in a secretary's outfit wearing glasses, with both a black cleave gag and a white cleave gag. GiGi is one of the best in peril and absolutely loves getting bound and gagged.