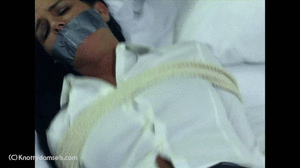 33 photos; 4:09 video
When we last left detective Kobe Lee, she was caught while tailing a suspect she was hired to follow. Revealing she was a private investigator, the man knows that she is on to his shady dealings. He decides to clear up all loose ends and cover his tracks. To do so, he has to keep Kobe quiet. Keeping her bound at the wrists, ankles, and chest, Kobe is now gagged with a strip of duct tape. She is left alone to struggle. After a while, Kobe realizes that the man is not returning and she has to remain there bound and gagged until the cleanup service comes.
Contains a bonus photo set of Kobe handcuffed and tape gagged with white tape.