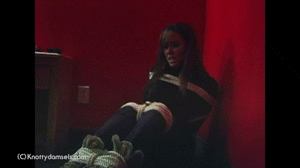 41 photos; 4:25 video
Christina Carter is a spy whose cover is blown, and she's not happy about it at all. With rope wrapped around her chest, hands, knees, and feet, Christina is stashed in a red room. Shouting obscenities at the man holding her captive, her foul mouth is silenced by a blue bandanna cleave. This doesn't stop Christina from venting out her frustrations as she tries to get the ropes and gag off of her.
BONUS- Photos of Christina in the same tie but sporting a tight red bandanna OTM gag.