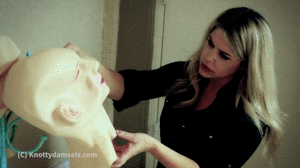 39 photos; 4:42 video
Carissa Montgomery is on the trail of a notorious criminal and has gotten a lead onto the dangerous man's wherabouts. She knows the person to be a master of disguise and has been led to an outskirt of town. She sneaks into the house cautiously, knowing that he might still be inside. When she enters, she spots a latex mask of a face that was described as what the assailant was wearing at the time of the crime. Knowing she has found her man, she is eager to arrest him. However, her eagerness was too much. She is suddenly grabbed from behind and is knocked out.
Moments later, Carissa comes to and finds herself tied thoroughly to a chair. She is cleave gagged with a black cloth. The fiesty detective soon realizes her plight and begins to struggle mightily. The beautiful damsel manages to get her gag off, but it only alerts her captor, who tells her that he might have to use better restraints to keep her there for a while. What fate awaits Carissa?