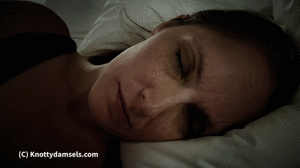 34 photos; 11:25 video
Rachel Adams had thought she had gotten away with the perfect con. She robbed her ex of his money and hid away from him waiting for her boyfriend. What she didn't realize was that the ex followed her and has snuck into her hotel room. Catching her off guard while asleep, Rachel finds herself tied in the bathroom, her arms uncomfortably overhead to the metal railing holding the shower curtain. She is gagged with a strip of duct tape over her mouth. Her ex laughs as he takes back the money she stole from him and leaves her for the maid to find the next morning.
Rachel's current boyfriend, who... well, he's not the sharpest tool in the shed, arrives and finds Rachel bound and gagged. He asks what has happened to her and she says her ex found her. He is about to untie her but when she admits he took the money, he suddenly loses interest in her and leaves her to be.
Rachel is now left in ropes and tape over her mouth to realize that men simply aren't worth it in any fashion.