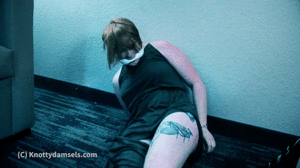 29 photos; 6:33 video
When we last left off, Izzabella Robbins has returned to her hotel room after some partying to check in on her roommate Kitty Kilmore and finds Kitty all taped up. Her attempts to rescue Kitty are met with peril as Izzie is now a captive with Kitty. Izzie's hands are soon cuffed behind her, and the ladies' ankles are bound with rope. They are both cleave gagged with thick white towels.
When Kitty wakes Izzie up, you would think that they would help each other get untied, but instead, Kitty is upset that Izzie partied without her, and the two argue through their gags on whose fault it is that they are now bound, gagged, but most importantly missing the party of the year downstairs. The two argue and move around so much, they get tired and can only wait for the maid to come in and free them, ruining their spring break.