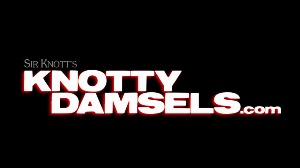 29 photos; 8:31 video
Detective Claire Irons had heard a lot about the house on the corner where strange things are heard and kept. The owner has rarely been seen but people fear that a lot of unusual activity has been going on. With a rash of disappearances, Claire has linked them to this house and its reclusive owner. She attempts a visit and sneaks in through the back door, which was left open. A convenience to her? Claire doesn't care, she just wants to nab this creep. She lurks into the basement where she finds a strange room that looks insidious. As she steps in, she feels a hand clamp over her mouth and a sharp pain to the back of her head, and she blacks out.
When she comes to, Claire finds herself lashed to a chair with rope. Her hands behind the chair, ankles, knees, and chest are bound tightly to the chair. She is very tightly cleave gagged with a blue bandanna. When she comes to, the fiery detective struggles against her bonds, incensed that she has allowed a veteran like herself to become bound and gagged. She uses those instincts to break free from her ropes. She attempts to make a run for it, but finds her creepy captor waiting at the top of the stairs. He tells her that he has to keep her more secure if she was able to undo his ropes. To be continued...