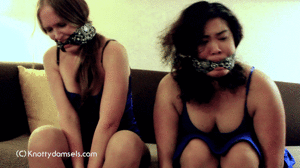 24 photos; 5:27 video
Okay, so there's no story to this one. Guest rigger Kitten (Wicked Blue Glow) wanted to rig Rachel Adams and Kim Chi her own way and as the consumate gentleman I am, I gave her carte blanche to go to town. With two loving ladies as Rachel and Kim willing, how could I say no?
So Rachel and Kim are tied wrists at the ankles and cleave gagged with bandannas... and that's where the fun begins. I promise, no damsels were harmed in the making of this video. But rest assured, it proves how naughty a rigger Kitten can really be.