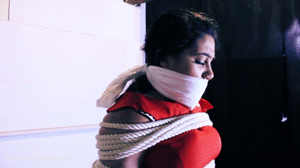 68 photos; 7:16 video
Enchantress Sahrye is a classic damsel in every sense of the word. Dressed in a stylish 1950s dress, Sahrye finds herself the prototypical damsel of the era, bound securely to a chair and OTM gagged with a thick white cloth. As she continues to struggle, the ropes increase until finally she is able to free herself from her chair and try to remove the gag. She has a chance to escape, but decides a different path in a surprise ending.
This is a perfect example of why Sahrye is one of the best in the business today, and flawless at every level.