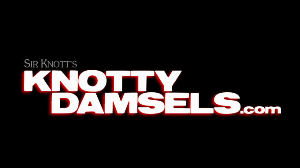 You would think after the last time Whitney Morgan snuck into a residence to serve papers she would not go alone. Well, turns out Ms. Morgan is out again handing out subpoenas to bad people and getting in trouble as a result.
Whitney hides out in a motel bathroom while overhearing her target discuss a plot to rob a federal reserve. Whitney tries to be silent but once again, her cover is blown, and this time she tries to escape, but it is no use.
The plucky heroine now finds herself sitting in a chair, her wrists and ankles bound, and she is OTM gagged with a yellow cloth as her captor debates what to do with her. Finally, after thought (and muffled pleas from Whitney), he decides to leave her there bound and gagged.
Whitney is thrown on the bed with a little more rope tied to her, and she struggles furiously to get free. As she mmpphhs and writhes, the bound and gagged Whitney wonders to herself "How can the same thing happen to the same girl twice?"