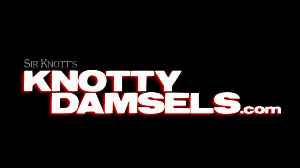 Produced in conjunction with NyssasNeverland.com.
Operative Nyssa Nevers is being brought in for questioning by her superiors about a recent adventure she had been on. The sultry Miss Nevers was caught in an operation and was held hostage. Nyssa has to explain her ordeal, but in order to do so, she needs to relax a bit. She uses a match to light a Marlboro Red cigarette and takes a long drag as she begins to explain what her captors did to her.
Nyssa was held in a room where the suit bound beauty was tied hands behind, her ankles and knees were bound, and she was OTM gagged with a thick white cloth. Nyssa struggles and tries to search around the room for a means to escape. She does make a little noise which worries her captors.
Nyssa takes several drags as she recalls what happened next. Her gag is removed and turned into a knotted white cloth cleave gag, the knot wedged in her jaw. Nyssa explains that the new gag made it harder for her to call for help. However, the feisty Nyssa does find a means of escape in the form of a cigarette lighter in a drawer nearby. Nyssa hops to the drawer and takes out the lighter, using it to burn through the ropes binding her hands.
Nyssa fires up another Marlboro as she admits that the ordeal got her excited and she enjoyed being bound and gagged. She says she wouldn't mind going through it again as being in captivity got her hot.
This was filmed by Nyssa in Florida from a concept conceived by the both of us. Go to NyssasNeverland.com for more of the excellent Nyssa Nevers in your fetish fantasies.