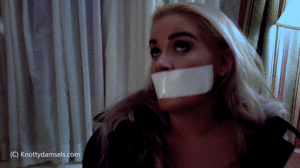 26 photos; 8:15 video
Whitney Morgan is a detective who has been grabbed, cuffed hands behind, and gagged with a strip of white tape over her mouth. She is led to a room and seated on a chair, where she is being interrogated by her captor as to why she was following him. With the gag still on, Whitney is trying to plead her innocence, saying she doesn't know anything. After her captor leans on her, he takes the tape off.
It turns out that the captor was actually Whitney's partner and this was an experiment to see how Whitney would react to being taken, bound and gagged. He is happy that Whitney didn't name games but upon seeing her in such peril, he begins to take his pleasures too far, to which Whitney gets the last laugh on his misogynistic ways.
This was a completely improvised video in which Whitney had no idea what I was doing throughout. She is an incredible actress.