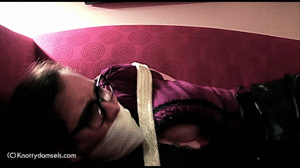 204 photos; 6:41 video
Samantha Grace is white cloth OTM gagged in two clips. In the first, Samantha is a businesswoman who, last thing she remembers, she felt a hand grab her from behind while another covered her mouth. Blacking out, she comes to lying on a couch. Her ankles, knees, hands behind her back, and chest are all roped. Her mouth is stuffed with a hankie and she is OTM gagged with a white cloth. Her glasses still on, Samantha soon realizes she is bound and gagged. She tries to gather where she is and frantically tries to get free. Will Samantha free herself?
In the second clip, Samantha again sports the detective gag as she is in a kitchen on the floor, and mmpphhs and struggles for freedom. Her captor taunts her before leaving the sexy Ms. Grace in her knotty situation.