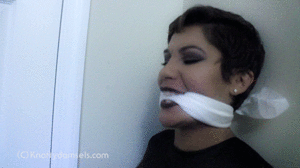 28 photos; 7:52 video
Enchantress Sahrye thought the house she was sneaking into was empty. She was trying to get the client list of a known international arms dealer. She didn't expect him to get the jump on her. Sahrye is stashed in a back room, bound hands behind, ankles bound, and her torso tightly tied. She is gagged with a white cloth cleave gag. Not one to cry for help, Sahrye recognizes her situation and tries furiously to get out of it. She grunts and groans through the gag in the hopes of getting loose. Her ace in the hole? She can dislocate her thumb. When she does, she is able to get free, and escape the clutches of the dastardly dealer.
Contains a bonus vignette of Sahrye chairbound and OTM gagged, shot on HD.