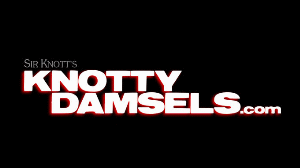 61 photos; 9:49 video
Heiresses Caroline Pierce and Pandora Jones are being held for ransom by a complete amateur. He has their hands bound and cleave gagged with blue bandannas. He thinks he is in control but the ladies show him that this isn't their first rodeo and mock him for his ineptness. He attempts gagging them with thicker, white cloth cleave gags but it is no use. The two laugh through their gags on how poor a captor he really is. Finally, he figures tape can truly seal their traps shut. Nope. The two STILL make fun of him for his inability to keep them quiet. The man has enough and realizes no ransom is worth this, and throws them in the closet for the maid to find, leaving with nothing.
This is one of the funniest videos I ever did and Caroline and Pandora completely improvised their performances here.