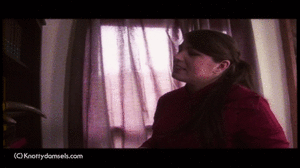 46 photos; 9:33 video
Color version of Elizabeth Andrews as a 1940s serial damsel in distress:
Elizabeth Andrews is a secretary who learns that her boss is actually a nefarious villain. She is warned by district attorney Grant Granderson (Hey, it's a serial homage) not to get caught but she is determined to find evidence that her boss is indeed the head of a crime ring. She does find it but is soon caught by the gang. Liz is bound to a chair and OTM gagged with a thick, white cloth as a (GASP!) bomb is placed as a trap for Grant. Can Liz work her gag off in time to warn the crusader?